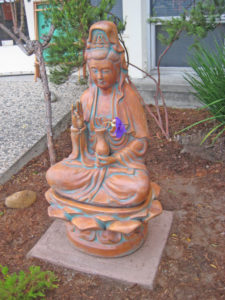 OUR NEWLY INSTALLED QUAN YIN
UPCOMING EVENTS: (also see events calendar at www.oceangatezen.org)
Saturday November 18th  Dharma Talk (Link)
Saturday November 25th: 9 a.m. zazen, followed by "Come As You Are" Dharma Talk
Thanksgiving Schedule: The zendo will be closed on Thanksgiving Day and on Friday Nov. 24th.
Nov. 25th Come As You Are Saturday lecture will be happening per usual.   
Jukai Precepts Ceremony: Saturday December 2nd
Rohatsu Sitting: December 9th
Holiday Schedule: Zendo Closed from December 24th – December 30th
New Year's Eve Celebration: Temple Cleaning, Zazen, Bell Ringing and Ceremony 7 – 10 p.m.