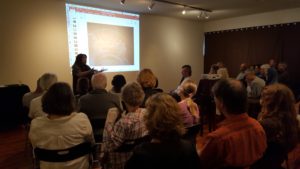 Painting Enlightenment: Healing Meditation on the Art & Science of the Heart Sutra
On Saturday August 11th, Ocean Gate hosted a slide presentation and talk by Dr. Paula Arai, (author of Women Living Zen and Bringing Zen Home) on the work of Japanese biologist and visionary artist Iwasaki Tsuneo (1917-2002). Iwasaki painted the resonances he discovered between scientific and Buddhist views of reality through incorporating characters  of the Heart Sutra into his art. This work will be shown locally again in 2019.

UPCOMING EVENTS AND DAILY/WEEKLY SCHEDULE:
Saturday Zazen/Meditation (9 a.m.) & Dharma Talk (9:30 a.m.) Ongoing
Meditation/Zazen Instruction every Saturday morning at 8:30 a.m.
Temple Cleaning:  Saturday August 18, September 29 & October 20 (immediately after Come As You Are)
Meditation/1-day Sitting – September 22, 9 a.m. – 4 (includes regular Saturday morning program) Oryoki or Oryoki Bag Lunch. Please sign up at the Zendo
Next Bodhisattva Ceremony: Saturday September 22 (After Dharma Talk)
Join Us for Zazen Meditation, Everyone is Welcome.
Tuesday & Thursday  Meditation 6:45 a.m. – 7:25 a.m. followed by Chanting Service
Friday Meditation 9 a.m. – 9:40 a.m. followed by Well-being and Refuges Service
Saturday Morning Schedule:
8:30 a.m. Meditation/Zazen Instruction
9:00 a.m. Meditation
9:30 a.m.  Dharma Talk, followed by Questions & Answers