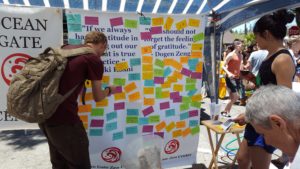 Gratitude Booth at Gay Pride Parade
On Sunday June 3rd, Ocean Gate's  Gratitude Booth was a hit for the fourth year in a row. Many people participated by offering post it notes expressing their gratitude for something in their lives. Caroline offer tea to anyone passing by and we gave away Dharma slogan pins, as well. The Gratitude Messages will be saved until New Year's Eve when we will read them aloud and burn them in our ceremonial fire marking the end of the old year. These messages will become a universal prayer expressing our gratitude.

UPCOMING EVENTS AND DAILY/WEEKLY SCHEDULE:
Saturday Zazen/Meditation (9 a.m.) & Dharma Talk (9:30 a.m.) Ongoing
Meditation/Zazen Instruction every Saturday morning at 8:30 a.m.
Shinshu's Book on Dogen's, Being Time: A Practitioner's Guide to Dogen's Shobogenzo Uji is now available on Amazon.com or through the book's publisher Wisdom Publications: www.wisdompubs.org. $16.95 ISBN 9781614291138. 
Temple Cleaning:  Saturday June 23, July 21.
Half-Day Sitting – Saturday July 14th, Great sitting for beginners. 9 a.m. – noon (includes regular Saturday morning program)
Next Bodhisattva Ceremony: Saturday July 28th (After Dharma Talk)
Join Us for Zazen Meditation, Everyone is Welcome.
Tuesday & Thursday  Meditation 6:45 a.m. – 7:25 a.m. followed by Chanting Service
Friday Meditation 9 a.m. – 9:40 a.m. followed by Well-being and Refuges Service
Saturday Morning Schedule:
8:30 a.m. Meditation/Zazen Instruction
9:00 a.m. Meditation
9:30 a.m.  Dharma Talk, followed by Questions & Answers