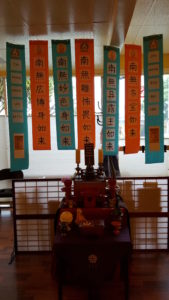 UPCOMING EVENTS: (also see events calendar at www.oceangatezen.org)
Saturday Oct. 21st Come As You Are Dharma Talk with Temple Cleaning immediately following
Saturday Oct. 29th Lecture on Buddhist celebration of Halloween. Followed by the Ceremony of the Hungry Ghosts. Everyone is welcome and encouraged to come.
Saturday Nov. 4th 1/2 Day Sitting and Bodhisattva Ceremony. This half day extended Saturday morning program is a great way to experience Soto Zen meditation.
Thanksgiving Schedule: The zendo will be closed on Thanksgiving Day and on Friday Nov. 24th.
Nov. 25th Come As You Are Saturday lecture will be happening per usual.