Starts February 13, 2015 then every Friday until January 1, 2020
This is a late morning meditation followed by a service in which we chant specific chants in order to recognize those who have recently been deceased and to those in need of well-being. The names we chant are recognized throughout the week on our dedication board specifically to bring peace and well-being to those who are sick, suffering or otherwise in need of prayer.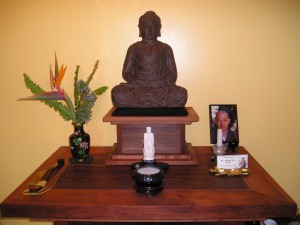 Zazen: 9 a.m.
Service: 9:40 a.m.
Community Bow-in: around 10 a.m.
                                     Ocean Gate Zendo Altar
Saturday Set-up: You are welcome to help us set up for the Saturday morning "Come As You Are" program, if you schedule permits. This happens after the community bow-in.