Questions: info@oceangatezen.org
Everyone is Welcome to participate.
Buddha's Birthday Altar
UPCOMING EVENTS & SATURDAY MORNING "COME AS YOU ARE" SCHEDULE:
Saturday Zazen/Meditation (9 a.m.) & Dharma Talk (9:30 a.m.) Ongoing
Meditation/Zazen Instruction every Saturday morning at 8:30 a.m.
Temple Cleaning: Saturdays: June 15th (immediately after Come As You Are), July 20th
Bodhisattva Ceremonies: Saturdays: June 8th, July 13th
Saturday Sittings: 1/2 May 25th, 1/2 Day Sit July 6th (sitting begin at 5:30 a.m. - noon)
Eight Fold Path Discussion Group: Six Weeks, Thursday nights, 6:30 - 7:30 p.m. Beginning May 16th through  June 20th. You may join the class for any or some of the sessions.
If you are not currently attending events at Ocean Gate and you would like to participate in the Eight Fold Path discussion group, please make a donation of $10 for each class.
Sangha Pictures
Gay Pride Gratitude Booth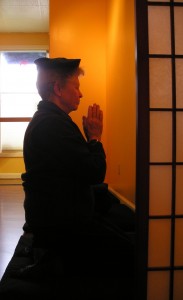 Reciting the Robe Chant after Zazen
Saturday Lecture "Come As You Are"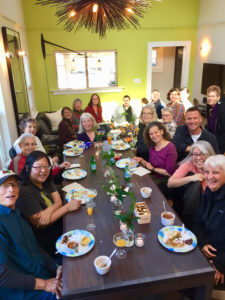 Holiday Party