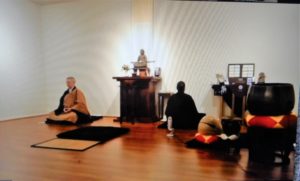 Our Teachers:
Ocean Gate YouTube Channel Link:
https://www.youtube.com/channel/UCKOFG-_XCenToA559VDXqKQ
Link to our most recent lecture on YouTube:  Gassho 
https://youtu.be/zJLOqXrtzn8
Ocean Gate Zen Center is streaming all activities live on Zoom    
Questions: info@oceangatezen.org
Upcoming Schedule
All activities will be online until further notice
January 22 Half-day Sitting (6:45 a.m. - noon)
January 29 Regular Saturday Morning Program
SATURDAY MORNING "COME AS YOU ARE" SCHEDULE:
9:00AM Zazen/Meditation    9:30AM Dharma Talk 
Everyone is Welcome to participate.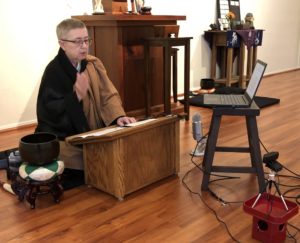 Streaming Saturday Morning Lecture
Weekly Zazen-Meditation, Everyone is Welcome.
Tuesday, Wednesday & Thursday  Meditation 6:45 a.m. - 7:25 a.m. followed by Chanting Service
Friday Meditation @ 9 a.m. - 9:40 a.m. followed by Chanting Service
Saturday Morning Schedule:
9 a.m. Meditation
9:30 a.m.  Dharma Talk, followed by Questions & Answers
In person zazen instruction is currently cancelled because of the corona virus. Recommended Videos:
 Meditation Instruction by Sojun Weitsman Roshi (Rev. Daijaku and Shinshu's teacher) of the Berkeley Zen Center on YouTube
https://www.youtube.com/watch?v=IBmYlr35mYU
 
Sangha Pictures
Teacher Rakusu Receiving Ceremony
June 26th Jukai Ceremony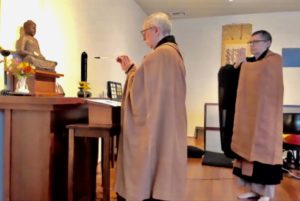 Opening the Eye of Sojun Roshi's Ihai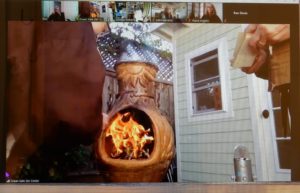 Burning last year's ofuda and well-being/passage cards. Streamed on Zoom for Sangha members.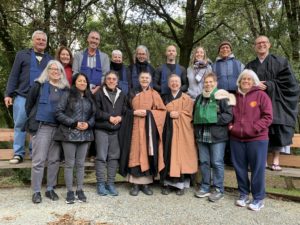 Pre-covid 2020 Jikoji Weekend Sesshin
Rev. Jaku stringing cranes
Pre-covid: Folding Cranes for 2020
Tsuru For Solidarity Action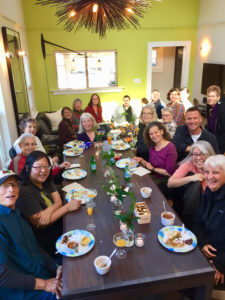 Pre-covid Holiday Party