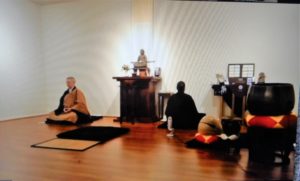 Our Teachers:
Ocean Gate YouTube Channel Link:
https://www.youtube.com/channel/UCKOFG-_XCenToA559VDXqKQ
Everyone is Welcome to participate.
Questions: info@oceangatezen.org
Ocean Gate Zen Center is streaming all activities live on Zoom  
SATURDAY MORNING "COME AS YOU ARE" SCHEDULE:
Saturday Zazen/Meditation (9 a.m.) & Dharma Talk (9:30 a.m.) 
Questions can be asked via email at oceangatezen.org
Ocean Gate's 2021 Schedule has not been published yet. For now, please join us for lectures and morning zazen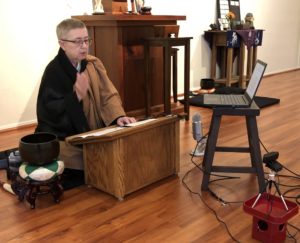 Streaming Saturday Morning Lecture
Weekly Zazen-Meditation, Everyone is Welcome.
Tuesday, Wednesday & Thursday  Meditation 6:45 a.m. - 7:25 a.m. followed by Chanting Service
Morning Service will be in observance of Sojun Roshi's death until the passage of 49 days.
Friday Meditation @ 9 a.m. - 9:40 a.m. followed by Chanting Service
Saturday Morning Schedule:
9 a.m. Meditation
9:30 a.m.  Dharma Talk, followed by Questions & Answers
In person zazen instruction is currently cancelled because of the corona virus. Recommended Videos:
 Meditation Instruction by Sojun Weitsman Roshi (Rev. Daijuku and Shinshu's teacher) of the Berkeley Zen Center on YouTube
https://www.youtube.com/watch?v=IBmYlr35mYU
We will be offering Saturday Morning's schedule as online zoom zazen and lecture (same time). Please access the zendo activities through the zoom link

Ocean Gate Zoom Zendo Link
 
Sangha Pictures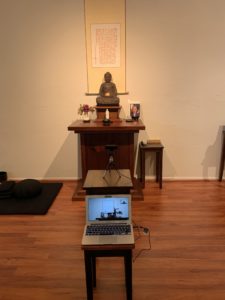 Zazen Zoom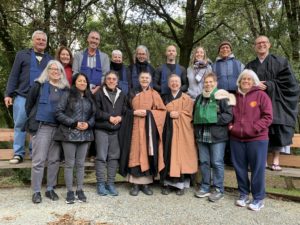 2020 Jikoji Weekend Sesshin
Rev. Jaku stringing cranes
Folding Cranes for 2020 Tsuru For Solidarity Action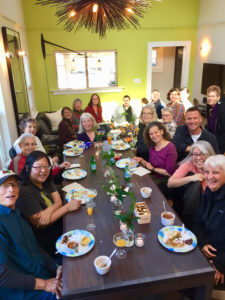 Holiday Party