Come As You Are Zen
This is an informal Saturday morning program focused on investigating Buddhist teachings for creating ease and skillful response in our daily life. The program begins with meditation followed by a Dharma talk by one of our teachers: Rev. Daijaku Kinst or Rev. Shinshu Roberts. Talks are for both the beginner as well as the advanced practitioner. Everyone is welcome.
Saturday mornings
8:30 a.m. meditation/zazen instruction
9 – 9:20 a.m. meditation
9:30 – 10:30 a.m. lecture & discussion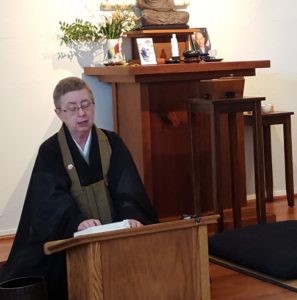 Day and night
Night and day,
The way of Dharma as everyday life;
In each act our hearts
Resonate with the call of the sutra.
Dōgen Zenji (trans. Steven Heine)