Starts February 14, 2015 then every Saturday until January 1, 2020
This is an informal Saturday morning program focused on investigating Buddhist teachings for creating ease and skillful response in our daily life. The program begins with short period of meditation followed by a talk on a Buddhist topic. There will be time for a discussion after the talk. The topics are aimed at the beginner as well as the advanced practitioner.
Everyone is welcome.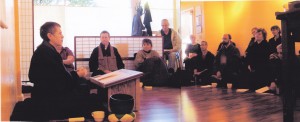 8:30 – 8:50 a.m. meditation
9 – 10:30 a.m. lecture & Q/A